WD® Custom Pickguards For Squier® '51®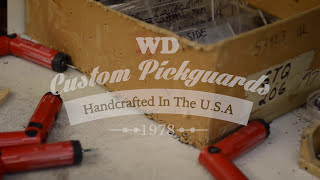 These standard model WD® Custom Pickguards for Squier® '51® can be modified for any pickup or control configuration. If you do not see your specific model of Squier® '51® listed here, or would like additional modifications not available online, speak with one of our master craftsman directly via email at custompickguards@wdmusic.com, or via phone at 800.449.9348 ext#112. Please note, our pickguard offices are open Mon-Fri 10-6 EST, all messages received after business hours will be replied to in the order they are received the following business day.
Make Selection
Name: A to Z
Name: Z to A
Price: Low to High
Price: High to Low
A Brief History:
The Squier® '51® is one of few guitar designs made specifically by Squier®. The Squier® '51® is a combination of Fender® instrument designs including the Stratocaster®, Precision Bass®, and Telecaster®.
Manufacturer: Fender®, Squier®
Period: 2003–2006, 2011–2013 (Fender® Version), 2013–Present
Body type: Solid
Neck joint: Bolt-on
Body: Basswood
Neck: Maple
Fretboard: Maple
Bridge: Fixed
Pickup(s): SH