WD® Custom Pickguards For Fender® Dimension®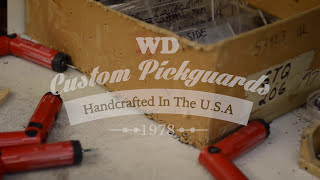 These standard model WD® Custom Pickguards for Fender® Bullet® can be modified for any pickup or control configuration. If you do not see your specific model of Fender® Bullet® listed here, or would like additional modifications not available online, speak with one of our master craftsman directly via email at custompickguards@wdmusic.com, or via phone at 800.449.9348 ext#112. Please note, our pickguard offices are open Mon-Fri 9-5 EST, all messages received after business hours will be replied to in the order they are received the following business day.
Make Selection
Name: A to Z
Name: Z to A
Price: Low to High
Price: High to Low
A Brief History:
Fender takes innovation to the next level with this bold step forward in bass style and sound, with new pickups, hardware and more. The company that invented electric bass now brings you an elegantly original body style with all-new pickups, electronics and other fine features that let you sculpt and personalize your tone as no Fender bass ever has before. It is a level of bass artistry unparalleled in Fender history, and it is the future of your Fender bass experience. In every way, it's an entirely new Dimension in Fender bass.
Manufacturer: Fender®
Period: 2013
Body type: Solid
Neck joint: Bolt-on
Scale: 34 in. (864 mm)
Body: Alder
Neck: Maple
Fretboard: Rosewood
Bridge: 4-Saddle Fender Hi-Mass
Pickup(s): Dimension Humbucker