WD® Custom Pickguards For Fender® Stratocaster®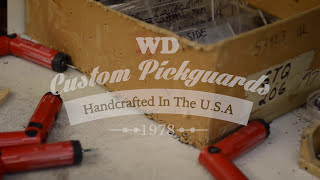 These standard model WD® Custom Pickguards for Fender® Stratocaster® can be modified for any pickup or control configuration. If you do not see your specific model of Fender® Stratocaster® listed here, or would like additional modifications not available online, speak with one of our master craftsman directly via email at custompickguards@wdmusic.com, or via phone at 800.449.9348 ext#112. Please note, our pickguard offices are open Mon-Fri 10-6 EST, all messages received after business hours will be replied to in the order they are received the following business day.
Make Selection
Name: A to Z
Name: Z to A
Price: Low to High
Price: High to Low
A Brief History:
The Fender® Stratocaster® is a model of electric guitar designed in 1954 by Leo Fender, Bill Carson, George Fullerton, and Freddie Tavares. The Fender® Musical Instruments Corporation has continuously manufactured the Stratocaster® from 1954 to the present.
It is a double-cutaway guitar, with an extended top "horn" shape for balance. Along with the Gibson® Les Paul®, it is one of the most often emulated electric guitar shapes. "Stratocaster"® and "Strat"® are trademark terms belonging to Fender.
The Stratocaster® is a versatile guitar, usable for most styles of music and has been used in many genres, including country, rock, pop, folk, soul, rhythm and blues, blues, jazz, punk, and heavy metal.
Manufacturer: Fender®
Period: 1954–present
Body type: Solid
Neck joint: Bolt-on
Scale: 25.5 in (648 mm)
Body: Alder, Ash, Poplar, Basswood
Neck: Maple
Fretboard: Maple, Rosewood, Ebony, Pao Ferro
Bridge: Usually proprietary 6-screw Tremolo, Floyd Rose locking system, Hardtail
Pickup(s): Usually 3 Single-coils (SSS) or 2 Single-coils with Hot Bridge Humbucker (HSS) on certain models. Other pickup configurations (H/HH/HSH/HHH) are also available